The Lewis Farm FTT Dinners are a great opportunity to spend an evening with friends and neighbors, to support your local farmers, and get to know your fellow local food lovers. Tickets prices vary by event but remember CSA members get a discount on all farm events.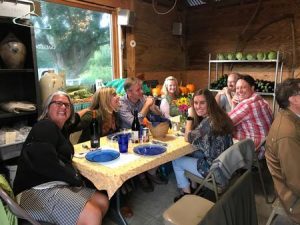 Our menu includes delicious courses all featuring Lewis Farm and local produce picked hours earlier. Chef Matthew Meinecke is a culinary wizard who trained with Ming Tsai at Blue Ginger in Boston; and he also just happens to be Farmer James's brother. 
*SPECIAL EVENT NOTICE* The May Brunch will be featured on Lewis Farm's Commercial Kitchen Fundraising page and marketing materials. We'd love to interview you as a Friend of the Farm during this event!
May Mother's Day Farm to Table Brunch Menu
Sunday, May 12th
Buttermilk biscuits & whipped butter
Lewis Farm Arugula Strawberry Salad
honey thyme vinaigrette, chevre cheese, homemade sun dried tomatoes, toasted almonds
Thai Sesame Cucumber Salad
red peppers, scallions, edamame beans, sprouts, sesame soy dressing
Crushed lime avocado toast with curry roasted cauliflower
Farm fresh scrambled eggs
Brown sugar glazed baked ham with whole grain mustard sauce
Baked spring potatoes
Lemon chicken piccata, crispy capers
Braised rainbow chard, spinach, & kale fresh herb saute
Seasoned Home fry spring potatoes
Milk chocolate stuffed croissants
Fruit Salad with berries, fresh mint, & Chantilly Cream
Fathers Day Farm to Table BBQ Menu
Sunday, June 16th
Clambake Farm to Table Picnic
Thursday, 4th of July
Summer Harvest Dinner
Saturday, 2nd August
Follow us on Facebook or our Newsletter for updates on upcoming Farm to Table Dinner ticket sales.
We welcome private events, receptions, school groups, scouts, and field trips – contact us for more information!​