The Lewis Farm FTT Events are a great opportunity to spend time with friends and neighbors, to support your local farmers, and get to know your fellow local food lovers. Tickets prices vary by event, but remember CSA members get a discount on all farm events.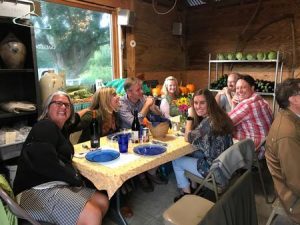 Our menu includes delicious courses all featuring Lewis Farm and local produce picked hours earlier. Chef Matthew Meinecke is a culinary wizard who trained with Ming Tsai at Blue Ginger in Boston; and he also just happens to be Farmer James's brother. 
UPCOMING FOOD EVENTS:
July 31 – Canterbury NH Farmers Market Food Booth from 4-6:30pm.
August 9-11 – Lewis Farm Food Booth at Trichomania Music Festival 
August 17 – Summer Harvest Farm to Table Dinner at Lewis Farm 5-7:30pm
September 20-22 – Lewis Farm Food Booth at Equinox Music & Art Festival
Follow us on Facebook and sign up for our Newsletter for updates on upcoming Farm to Table Dinner ticket sales.
We welcome private events, receptions, school groups, scouts, and field trips – contact us for more information!​