The Lewis Farm FTT Dinners are a great opportunity to spend an evening with friends and neighbors, to support your local farmers, and get to know your fellow local food lovers. Tickets prices vary by event but remember CSA members get a discount on all farm events.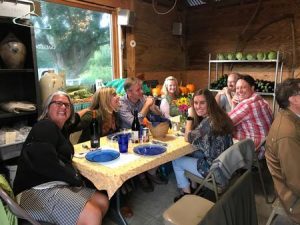 Our menu includes delicious courses all featuring Lewis Farm and local produce picked hours earlier. Chef Matthew Meinecke is a culinary wizard who trained with Ming Tsai at Blue Ginger in Boston; and he also just happens to be Farmer James's brother.
Farmer James' Birthday Farm to Table Dinner Menu
March Wednesday, 6th
Homemade french bread & farm churned butter
Appetizer – Shaved prosciutto and melon with fresh basil
Soup – Roasted cauliflower and celery root root bisque, fresh tarragon & white truffle oil
Grilled Pear Salad – Organic arugula and frisee mixed greens, coriander pickled carrots, red radish, scallions, toasted pecans, maple bacon vinaigrette
Entree – Prime rib beef or pine nut & seafood stuffed acorn squash, whipped russet potatoes, grilled asparagus
Desert – Chocolate fondue with pound cake, strawberries, pretzels & frozen cheesecake bites
Appetizer – Beet Salad Mâche greens, Belgium endive, fried chevre cheese, roasted red beets, orange zest, fresh thyme, & honey dressing
Entree – Chinese pork belly or tofu with steamed white rice and Saki sesame braised bok choy
Desert – Chocolate layer cake with seedless pomegranate & split grape salad
April CBD Farm to Table Dinner Menu – tbd
April Saturday, 20th
May Mother's Day Farm to Table Brunch Menu
Sunday, May 12th
Fathers Day Farm to Table BBQ Menu
Wednesday, June 6th
Clambake Farm to Table Picnic
Thursday, 4th of July
Summer Harvest Dinner
Saturday, 2nd August
Follow us on Facebook or our Newsletter for updates on upcoming Farm to Table Dinner ticket sales.
We welcome private events, receptions, school groups, scouts, and field trips – contact us for more information!​