The first Outdoor Farm To Table Dinner of 2018 will take place on Saturday July 21st, and the rain date is Sunday, July 22nd. If it is raining at or after noon on 7/21, we will reschedule the event to 7/22.
The Lewis Farm FTT Dinner is a great opportunity to spend an evening with friends and neighbors, to support your local farmers, and get to know your fellow local food lovers. Tickets $55 General Admission, $50 CSA Members. Note: The price will be $60 for tickets sold the day of the dinner.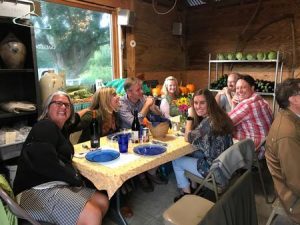 Our menu includes appetizers, soup, salad, entree, and dessert courses all featuring Lewis Farm and local produce picked hours earlier.Chef Matthew Meinecke is a culinary wizard who trained with Ming Tsai at Blue Ginger in Boston; and he also just happens to be Farmer James's brother. 
BUY TICKETS HERE FOR THE 7/21 FTTD!!
Follow us on Facebook or our Newsletter for updates on upcoming Farm to Table Dinner ticket sales.
We welcome private events, receptions, school groups, scouts, and field trips – contact us for more information!​